RΟDOULA IN SAUDI HORECA
RODOULA is a fast-growing company in the food sector, leader in its market in Food service and retail market. Due to the boom in the Mediterranean diet and the shift in the Greek gastronomy, RODOULA has been investing in expanding its footprint worldwide with great success.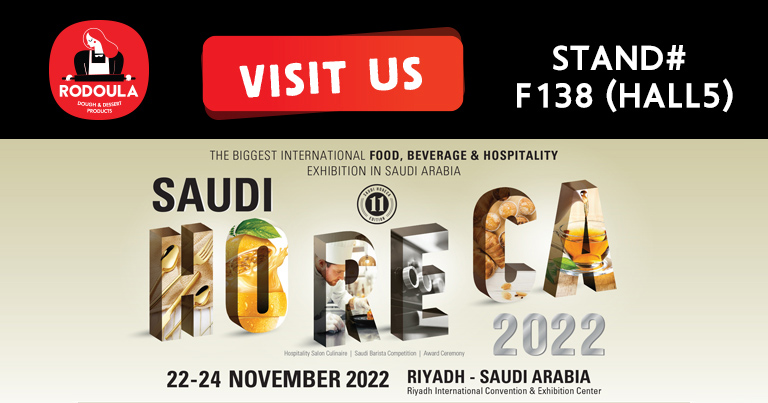 Middle East has been one of its main focuses due to the fast economic pace and the continuous progress reflected to the way of living extended to the similar consuming habits.
Furthermore, the company will be participating for the first time in the upcoming "Saudi Horeca" held in Riyadh, 22-24 in November with all three main categories Desserts, Bread and Dough products. "Saudi Horeca" is one of the oldest and most prestigious constitutions in the field of Hospitality & Retail.
Rodoula will be presenting signature products of each category targeted in the specific market, with special focus on the patisserie section, since the delectable taste along with the premium quality of the raw material has made the dessert category leader in the H.O.R.E.C.A international markets.  Bread is one of the most important goods of the food industry, Daddy's Bread project has been producing artisanal products that standout for their exceptional quality but as well for its differentiated fluffy products, at the fair, Daddy's will be presenting a great variety of goods for bakeries, hotels and restaurants. Last but not least, various awarded winning products in the dough category will be showcased, such as the Fabi Award (Chicago) winning Vegan pie and the Crinkly pie, award winning from ITQI for its premium taste, the first pie with wavy & crunchy filo dough.
RODOULA's team will be at the booth F138 (Hall 5), consisted by people with great knowledge and experience in the Middle East markets and will be there to introduce you to the Greek gastronomy.