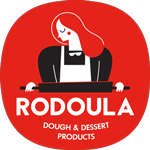 NEW INDIVIDUAL CAKES FANTASY
New delightful fantasy individual cakes, because in RODOULA everything comes true, even fantasies! Delicious white chocolate, ganache pastes in incredible flavors: pistachio with chocolate chips, praline & caramelized hazelnuts, my incredible health couverture chocolate with chocolate chips and sensational caramel with dulce de leche.
A DELICIOUS STORY BEGUN SOMEWHERE IN EPIRUS MANY YEARS AGO.
Today the company is well renowned globally as a high end Greek innovative production company for dough and sweet products, based in high international production standards.
3
FACTORIES
1200
DELICIOUS PRODUCTS
450.000
PORTIONS
20.000
POINTS OF SALES
INTERNATIONAL QUALITY ASSURANCE CERTIFICATES
SUPERIOR QUALITY & TASTE AWARDS