RODOULA & CORFU FOODS AT INTERNATIONAL DAIRY DELI BAKERY ASSOCIATION
We are happy to inform you that RODOULA and Corfu Foods will be participating together at the upcoming "IDDBA" show in Anaheim, CA, on June 4th – June 6th at the Anaheim Convention Center.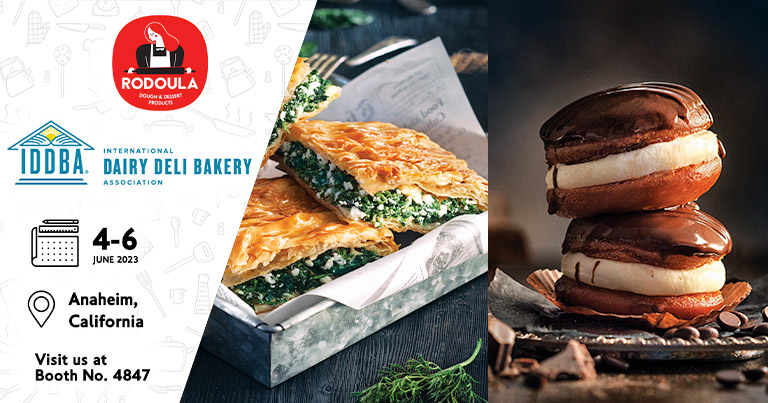 We are excited to present our bakery solutions, with a rich variety of unique and award winning applications in the categories of dough pastries and desserts.
RODOULA is one of the fastest growing Greek companies in the food industry. Constantly generating innovative culinary ideas, creating delicious taste through sourcing of the highest quality ingredients, Rodoula is setting new trends in the bakery industry.
RODOULA signature pies are a delicacy of handmade phyllo dough and Greek extra virgin olive oil. Known for our Crinkly pies  line , the first pie made with a wavy handmade dough, which creates air gaps, allowing the herbs, aromas, and the fresh filling to all come together to form a balanced pie.  The first bite is a taste of Greece
In the delicious desserts category, several proposals in the Greek category such as Baklava & Kataifi and International such as individual Cakes, will be showcased that will stand out for their divine taste but for their differentiated design.
During the exhibition we will present our savory and sweet creations. Come taste our Baklava, kataifi, individual cakes and our spinach pies and cheese pies. All available in retail and food service packaging.
We will be delighted to meet you in person and introduce you to RODOULA'S food culture, your authentic Greek bakery Solution for foodservice and retail.